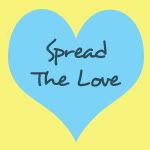 Day 3 and back to work today, but managed to
spread the love
.
Took some co-workers out for lunch as a thank you for all their help and friendship and had a fab time - it won't be the last time we go out for lunch in the working week!
Complimented several colleagues and got lovely smiles in return, and made a special effort to ask a colleague who isn't a fan of mine (NO idea why) about her recent holiday.
Even smiled at not-so-considerate drivers on the commute :)
Planning on leaving little love notes for my hubby to find around the house.
And tomorrow after work I'm taking hubby away for the weekend as it's our 13th wedding anniversary on Monday. Will be trying to continue to
spread the love
whilst we're away. x