Goodness, I don't know where the time keeps going to, weeks just seem to fly by! Anyhoo, it'll very soon be my sister-in-law's birthday, so I decided to have a theme for her pressies this year - she LOVES (& I do mean LOVES) Morrissey.
Jasmin Studio Crafts
never let me down, I get lots of great jewellery crafting items from them, and I bought their great black oval bracelet with stickers. I'd never tried these before, but I'm so pleased with the result that I've subsequently ordered the 10-pack for more gifts for Christmas :)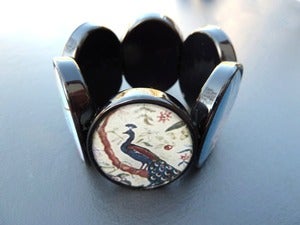 Jasmin Studio Crafts
I decided to alternate with pictures of Morrissey and some quotes from the man himself - ones I thought she'd appreciate :D
I'm really pleased with the result and hope she will be too. A short "make" is on my Makes page if you're interested to see just how easy these are to do.
I also got her some Morrissey-inspired goodies from Etsy:
these fab pencils (she's a teacher) from
The Carbon Crusader
who does lovely engraved pencils, some custom, some great movie quotes in there too
and these great nail decals from
ChaChaCovers
ChaChaCovers
International post was super fast for both of these (yay) and I know she'll love them! Thanks ladies, great products :) x